Logan Brown discusses her competitiveness, growth as a student athlete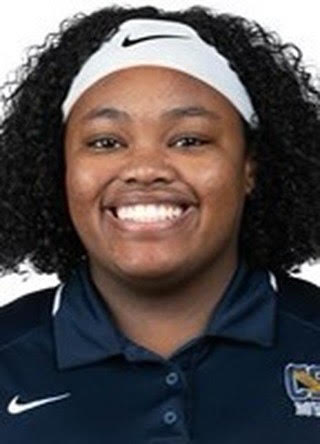 Logan Brown is a university bowler who claims to be a perfectionist. Having endured a tumultuous freshman year in the midst of a pandemic, she now realizes mental health is every bit as important as physical health in her pursuit of the perfect game. 
Brown is a Charles County, Md., native raised by her parents, who shared their passion for bowling with her at a young age. She is a gifted student-athlete in the All-Tournament Team this past year at the Mid-Eastern Atlantic Conference. She is a sophomore sports management major at Coppin State University and on the Women's Bowling Team. 
Brown was connected with Coppin State due to their small and diverse campus, the Honors Program, and the women's bowling team coaches. Brown's long-term goals include becoming a broadcast journalist for ESPN, and if offered to play professionally, she would take the dream of a lifetime. 
Coach Douglas has seen Brown's transformation and improvement from being extremely competitive to now reflecting on her errors more positively. "She was very hard on herself freshman year, but she is leading to accept the changes and implement them in her practices," she said.
Coaches aren't the only ones who Brown grows into dealing with the adjustment to campus life. Fellow university bowler Kaylah Castillo, a senior Biology major formed a bond with Brown that helped her acclimate.
 "This semester, she has grown so much, and she is a great team player and very competitive," Castillo said. 
 Brown said her coaches are especially integral in making the team feel like family, and she credits much of her bowling success to them and  the many people who help support her on and off of campus."I have a lot of mental barriers, and I have a tendency to overthink, but my coaches help me re-group and get myself together before it goes bad," she said.
Keylin Perez is a Junior nursing major and editor of the Courier. This story is part of a series called Athlete of The Week. The Courier will publish the next installment of this series on Dec. 10.
Leave a Comment
About the Contributor
Keylin Perez, Editor
Keylin Perez is a Junior nursing major at Coppin State University and a sergeant in the U.S. Army. She is currently signed two modeling agencies and recently...