9 Expressions of Wisdom: A Conversation with Vice Chair Keisha Lance Bottoms and Vice President Kamala Harris
On February 23, 2023, the Coppin Courier Newspaper was invited to attend an exclusive White House briefing. The Courier and various other HBCU Newspapers met to discuss with some of the most influential people in our country. The briefing discussed assorted topics from community growth, HBCU funding, mental health and so much more. As students it is important to know what our leaders believe and want to do. In that manner, here are 9 important nuggets of wisdom you need to know from our Vice President Kamala Harris and Vice Chair of Civic Engagement Keisha Lance Bottoms. 
The Importance of Our HBCU Voice 

 
HBCUs provide an interesting perspective on the world, some containing a century's worth of knowledge. This administration has made it a priority to include Historically Black Colleges and Universities in important conversations. "President Biden and Vice President Harris have been very intentional about funding for HBCUs." Keisha Lance Bottoms commented. "Very intentional in making sure voices of HBCUs are being heard."  This is not just seen in words, but also by actions. Our schools own President Jenkins just recently met with the White House. In this meeting they spoke about topics ranging from national security to research curriculums. In the same regard, our Coppin Courier editor Keylin Perez also represented our university to attend a discussion at the White House on ROTC at HBCUs. This among many other events that have happened in the past year is proof of the commitment that has been made.  
 2. Voting Matters 
One point that was mentioned in numerous ways was the importance of voting. Keisha Lance Bottoms expressed "Elections matter, not just when it is time to vote for the president but when it is time to vote for your elected officials." It is important that we do our best to stay active about participating in elections. Our voices matter, and that voice can impact change. In that regard, try to stay up to date with what is happening in our community government. Knowledge is your strongest weapon. 
3. Own Your Space 
One of the questions asked was "how can smaller HBCUs…remain relevant in the changing educational landscape, especially those state operated and funded."  This question was relevant not only to the student that asked, but to Coppin. Although we cannot automatically change what we please about our university, if something feels out of place, it is important that we lobby for that change. This also ties into the importance of voting. As future leaders, it is our role to represent our best interests, and represent them well. 
4. Mental Health Matters 
As students there is an immense stress many of us feel. Students our age had to go through some of our most foundational years through a screen and have suffered the repercussions of such. It is important to note that this unique circumstance has affected people nationwide. "We are now seeing the influence of social media on mental health, especially young African American women." Keisha Lance Bottoms shared. "We know that suicides among African American men is up significantly. We are reading more and more about anxiety, depression, and the influence of social media." There will be times that you may be overwhelmed over a class, or stressed about a test, or find yourself feeling you are not good enough. In those moments, remember who you are, where you came from, and know where you are going will be better. 
This feeling of loneliness and hopelessness can consume us, and if you feel any of this, please take advantage of Coppin's counseling center.  
5. Shine Your Light 
All of us have a unique story that we can tell. In our first communication with Vice President Kamala Harris, she expressed "There is still a lot that we are counting on you as leaders and journalists to help us to do to continue to educate the people of our country and our world about who we are as Americans."  We are what will run the future. Our decisions will impact not only our cities, states, and country, but also the future generations who occupy them. For that reason, it is important that we strive to become the people we want the next generation to be proud of.  
 6. Be the Change  
Our Vice President expressed "You have the unique ability to know that we are counting on you, that you represent the best of who we are and that we are requiring you to lead."  Historically Black Colleges and Universities have always been a space for students to show their authentic selves and be accepted by their peers. With the confidence from HBCUs, we have gotten some of our best and brightest leaders. It would be a waste to not use the knowledge we receive to change this world for the better. 
  7. It Takes a Village 
A message presented throughout the whole experience was that we students were not alone. HBCUs have always had such a strong community based about them. We are a family and the experiences we have are a testament to this. It is important that we remember these ideals being instilled inside of us as we leave our campus. Reach out to one another. Stick up for one another. Support each other as much as you can. 
  8. Stand Firm and Proud 
"You will find yourselves many times in a room where you are the only one like you, who looks like you, who has had your life experience." Vice President Kamala Harris, a trailblazer for women, specifically black and Asian woman expressed this while speaking on how we should impact our communities. As you go to the various places you will go to after graduation, you must be unapologetic about who you are. Our HBCUs prepare us to be active members of our societies and to take pride in ourselves. Ensure your footprint is indelible. 
  9. Dream 
A quote that Vice President Kamala Harris quoted was one known well. "We are our ancestors' wildest dreams."  An average day for us is one that our predecessors could not even fathom 100 years ago. A country where a black woman, who graduated from an HBCU, who is a divine 9, is second in command. Without the wishes, the dreams, and the dedication to excellence they had, we would not be here. Pay it forward by thinking of ways to influence the world around you.  
With that, it is the hope you take these motivational pieces to heart. Also, on that note, we at the Coppin Courier wish you a Happy Black History Month! 
Leave a Comment
About the Contributor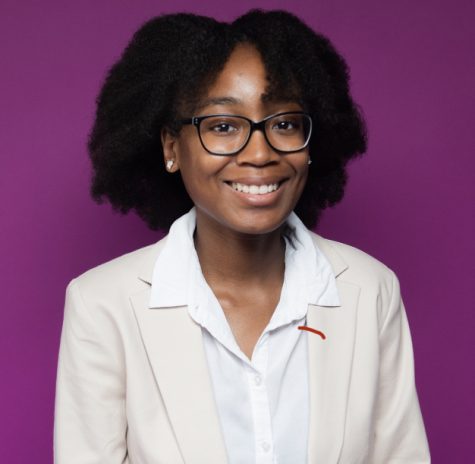 Jamie Reed, Staff Reporter
Jamie Reed has always known one thing growing up. That being that she wanted to be a teacher. Her mother and grandmother were both excellent educators,...